How to use Advanced Filtering to find your next investment
Grid Views are a great tool to use when looking for new investment ideas. Essentially they are collections of companies (represented by their Snowflakes) based on certain criteria. If you didn't have time yet to explore our curated collection, you can do it here.
Here we'd like to teach you how to create your own Grid View using Advanced filtering so you can find stocks which will exactly fit your investment criteria.
How to create your own Grid View?
Snowflake shape:
The easiest way to create your own Grid View is to define the Snowflake shape you are interested in, simply by pulling the points. This way you are using results from our analysis to define the stocks you are looking for.
Let's say we are looking for US undervalued stocks our Snowflake filter would look like this: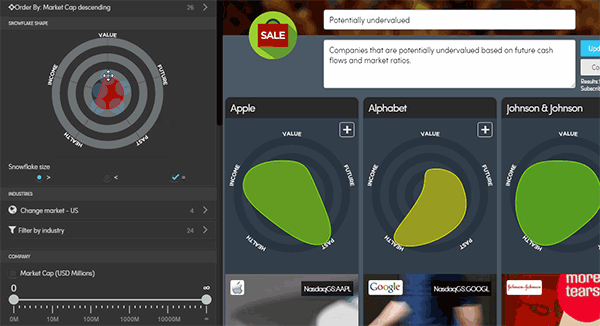 Specific Industries and Sectors:
You can choose from up to 24 sectors and 157 industries such as:
Renewable Energy
Biotech
Casinos and Gaming
Aerospace and Defense
Distillers and Vintners
Health Care Tech
Homebuilding
Tech
Apps
Internet Retail
Movies and Entertainment
Precious Metals
Oil and Gas Drilling
Pharmaceuticals
Company metrics:
If you want to be more specific you can filter stocks based on any of the metrics used in our analysis (or their combination).
Examples of metrics you can filter for:
Discount to Free Cash Flow Value (Intrinsic value)
PE, PEG and PB ratios
Expected earnings growth in 3 years
Level of Debt
Insider trading
Dividend yield and upcoming dividends
Price volatility
Example: How to create the Biotech Breakthroughs view:
Snowflake shape requiring good Future and Health
Only show companies in the "Biotechnology" industry
Only show loss making companies
No dividend payers
Show stocks on the US, UK and Australia markets
Order results by Future Performance score
Click here to Edit Biotech Breakthroughs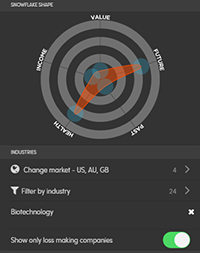 Go to Advanced Filtering